Chronological list of famines in India between 1765 and 1947
Year
Name of famine (if any)
British territory
Indian kingdoms/Princely states
Mortality
1769–70
Great Bengal Famine
Bihar, Northern and Central Bengal
10 million (about one third of the then population of Bengal). Disputed as excessive.
1782–83
Madras city and surrounding areas
Kingdom of Mysore
See below.
1783–84
Chalisa famine
Delhi, Western Oudh, Eastern Punjab region,Rajputana, and Kashmir
Severe famine. Large areas were depopulated. Up to 11 million people may have died during the years 1782–84.
1791–92
Doji bara famine or Skull famine
Hyderabad, Southern Maratha country, Deccan,Gujarat, and Marwar
One of the most severe famines known. People died in such numbers that they could not be cremated or buried. It is thought that 11 million people may have died during the years 1788–94.
1837–38
Agra famine of 1837–38
Central Doab and trans-Jumna districts of theNorth-Western Provinces (later Agra Province), including Delhi and Hissar
800,000.
1860–61
Upper Doab of Agra; Delhi and Hissar divisions of the Punjab
Eastern Rajputana
2 million.
1865–67
Orissa famine of 1866
Orissa (also 1867) and Bihar; Bellary and Ganjam districts of Madras
1 million (814,469 in Orissa, 135,676 in Bihar and 10,898 in Ganjam)
1868–70
Rajputana famine of 1869
Ajmer, Western Agra, Eastern Punjab
Rajputana
1.5 million (mostly in the princely states of Rajputana)
1873–74
Bihar famine of 1873–74
Bihar
A large and generous relief effort was organized by the Bengal government. There were no mortalities during the famine.
1876–78
Great Famine of 1876–78 (also Southern India famine of 1876–78)
Madras and Bombay
Mysore and Hyderabad
5.5 million in British territory. Mortality unknown for princely states. Total famine mortality estimates vary from 6.1 to 10.3 million.
1888–89
Ganjam, Orissa and North Bihar
150,000 deaths in Ganjam. Deaths were due to starvation as famine relief was not provided in time.
1896–97
Indian famine of 1896–97
Madras, Bombay Deccan, Bengal, United Provinces, Central Provinces
Northern and eastern Rajputana, parts of Central India and Hyderabad
5 million in British territory.
1899–1900
Indian famine of 1899–1900
Bombay, Central Provinces, Berar, Ajmer
Hyderabad, Rajputana, Central India, Baroda, Kathiawar, Cutch,
1 million (in British territories). Mortality unknown for princely states.
1905–06
Bombay
Bundelkhand
235,062 in Bombay (of which 28,369 attributed to Cholera). Mortality unknown for Bundelkhand.
1943–44
Bengal famine of 1943
Bengal
1.5 million from starvation; 3.5 million including deaths from epidemics.
Madras famine 1877
The skeleton of a starved man lying in a field after being eaten by vultures and jackals;BENGAL 1943
Children poking grain cars with wires, trying to pierce bags and pull grain down into bags Bengal 1943
Starving people lining up for government handouts in Calcutta 1943
Hindus burning their starved dead at the Calcutta Myrone Memorial
Starving Hindus waiting for the government controlled Grain Shop to open 1943
calcutta 1943 starving woman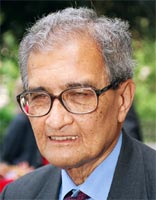 Amartya Sen:-

He received the Nobel Memorial Prize in Economics for his work in welfare economics in 1998.
"there is absolutely no historical account of any major famine in Bengal prior to the arrival of British in Bengal."
"Most academic debates about Bengal Famine have missed the most essential aspect - criminal act of the British Government"
"Bengal was a victim of a criminal act perpetrated for more than one and three quarters of a century. British establishment indulged in brutal genocide in Bengal, at times to further their own interests and at other times out of sheer negligence of their duties. In either case, the British Government stands guilty of the worst crime in recent human history.


The Holocaust in Germany was a minor event compared to what the British did to a people, who trusted them and were loyal to them. Nazis have been accused and convicted of the Holocaust in Germany. Even today, there are attempts to hunt down ex-Nazis and bring them to justice. A few weeks ago, a court awarded compensation to a Holocaust victim."



Delhi famine under British rule photo




BANGALORE FAMINE UNDER BRITISH RULE PHOTO



BENGAL FAMINE 1943 UNDER BRITISH RULE



BENGAL FAMINE UNDER BRITISH RULE 1943



STARVING INDIANS WAITING FOR FOR FOOD [BRITISH RULE 1943]



STARVING AND DEAD INDIANS UNDER BRITISH RULE 1943



STARVING INDIANS PRAYING --INDIA UNDER BRITISH 1943
Illustration and story in Penny Illustrated, London, February 14, 1874, reporting Queen Victoria's donation of £1,000 in aid of famine relief. Since Bihar was then in the Bengal Presidency, the famine was also referred to as the Bengal Famine of 1873–74. The Queen is already referred to as the "Empress of India" two years before she added that title.
DEC 18, 2010
This photograph is contributed by scancorner.com, a scanning and photo digitization company.
Late Victorian Holocausts/Verso
Villagers in Rajputana in 1899. Nearly a million villagers died in the locally and British administered sections of Rajputana. Mike Davis, in his book Late Victorian Holocausts cites Pierre Loti, who arrived at Rajputana in 1899 by train to a haunting scene of wailing emaciated children: "Oh! look at the poor little things jostling there against the barrier, stretching out their withered hands towards us from the end of the bones which represent their arms. Every part of their meagre skeleton protrudes with shocking visibility through the brown skin that hangs in folds about them; their stomachs are so sunken that one might think that their bowels had been altogether removed. Flies swarm on their lips and eyes, drinking what moisture may still exude..."